Good Morning Sunnyside Community. Tonight is Back to School Night. The Schedule is as follows: 7:00 - 7:10 Quick Welcome from Superintendent-Principal Mr. Tsuboi who will introduce new staff and give you some highlights about Sunnyside 7:10 - 8:00 Classrooms are open for visitation Other important information: The Class of 2023 will be selling refreshments to help fundraise for their class trip. Tonight is a "Meet and Greet" as is not designed for parent conferences. If you need to talk to the teacher or other school staff about something specific about your child please let us know and we will schedule a conference. If you are feeling under the weather, please stay home and get well. We will see you at our next event! Make sure you sign in (each room in which you have a child) so we can share out with others what great support there is from our parents at Sunnyside. Hope to see and meet you all tonight. The school year has gotten off to an awesome start thanks to having great kids, supportive parents and a staff laser focused on providing your children with the best learning experience possible.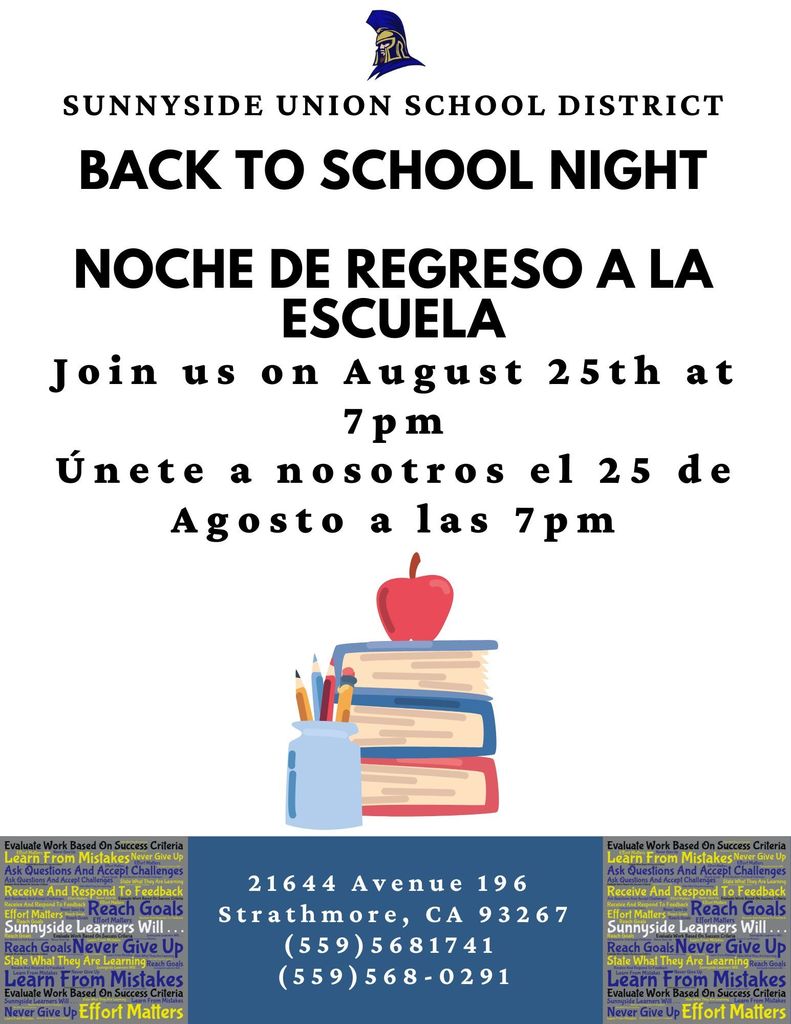 This Friday, August 26th we will be having our second football and volleyball games. We will be facing the Sundale Mustangs. The games will be held at Sundale starting at 12:45 PM. Stop by and support your Sunnyside Trojans!☀️

Sunnyside is starting off the new year with the motto of Start-Live-Be the Tradition at Sunnyside Elementary. We are challenging our students and staff to build on our strong traditions by starting new ones and being the ones who began and live the tradition. Each Junior High student is able to earn a block letter for academics, extracurricular activities (i.e. athletics), character, attendance, and leadership. Pins will be given out to be placed on their letter. Letters will be on display when students graduate to honor their accomplishments. On August 18, 2022, we had our first recipients. Luke Crone and Claudia Alvarez Ruiz, members of the Class of 2023, earned Pursuing Victory with Honor recognition at our first football and volleyball game at Tipton. Sunnyside would like to thank Tipton for recognizing these two wonderful student-athletes and give a big shout-out to Luke and Claudia for representing themselves and our Sunnyside community with their exceptional sportsmanship and character. Let the Traditions Begin! Sunnyside está comenzando el nuevo año con el lema de Start-Live-Be the Tradition en Sunnyside Elementary. Estamos desafiando a nuestros estudiantes y el personal para construir en nuestras fuertes tradiciones por el inicio de otros nuevos y ser los que comenzaran y vivieran la tradición. Cada estudiante de secundaria es capaz de ganar una letra de bloque para los académicos, actividades extracurriculares (por ejemplo, el atletismo), el carácter, la asistencia y el liderazgo. Se repartirán insignias para que las coloquen en su letra. Las letras se exhibirán cuando los estudiantes se gradúen para honrar sus logros. El 18 de agosto de 2022, tuvimos nuestros primeros recipientes. Luke Crone y Claudia Alvarez Ruiz, miembros de la clase de 2023, obtuvieron el reconocimiento de Perseguir la Victoria con Honor en nuestro primer partido de fútbol y voleibol en Tipton. Sunnyside quisiera agradecer a Tipton por el reconocimiento de estos dos maravillosos estudiantes atletas y dar un enorme agradecimiento a Lucas y Claudia por representar a sí mismos y nuestra comunidad Sunnyside con su deportividad y carácter excepcional. ¡Que las tradiciones comienzen!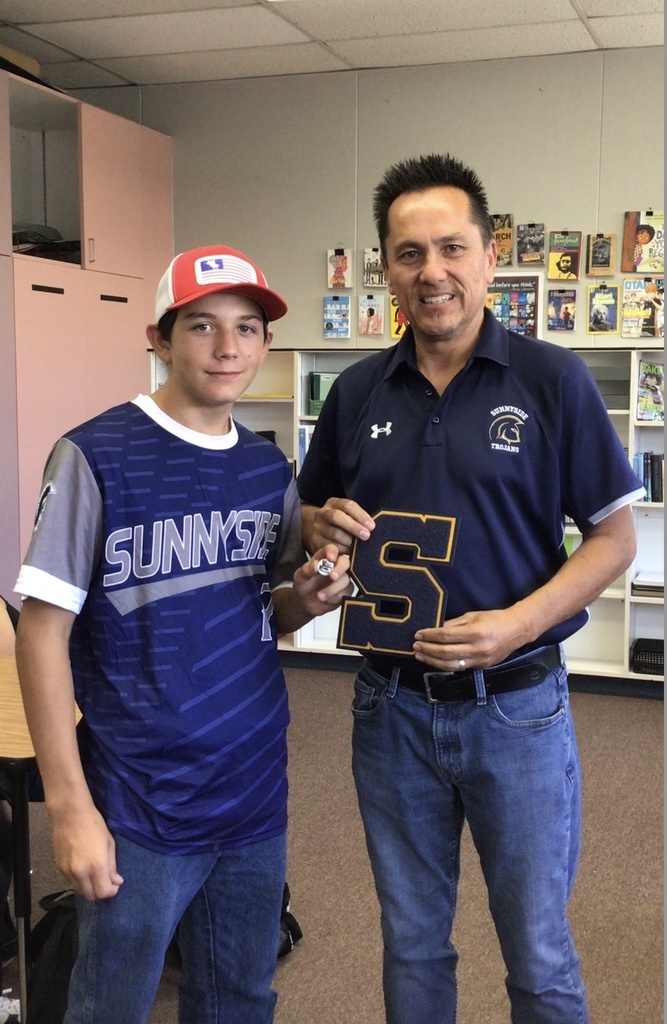 Good luck tomorrow Mr. Merzoian and Mr. Kimball!☀️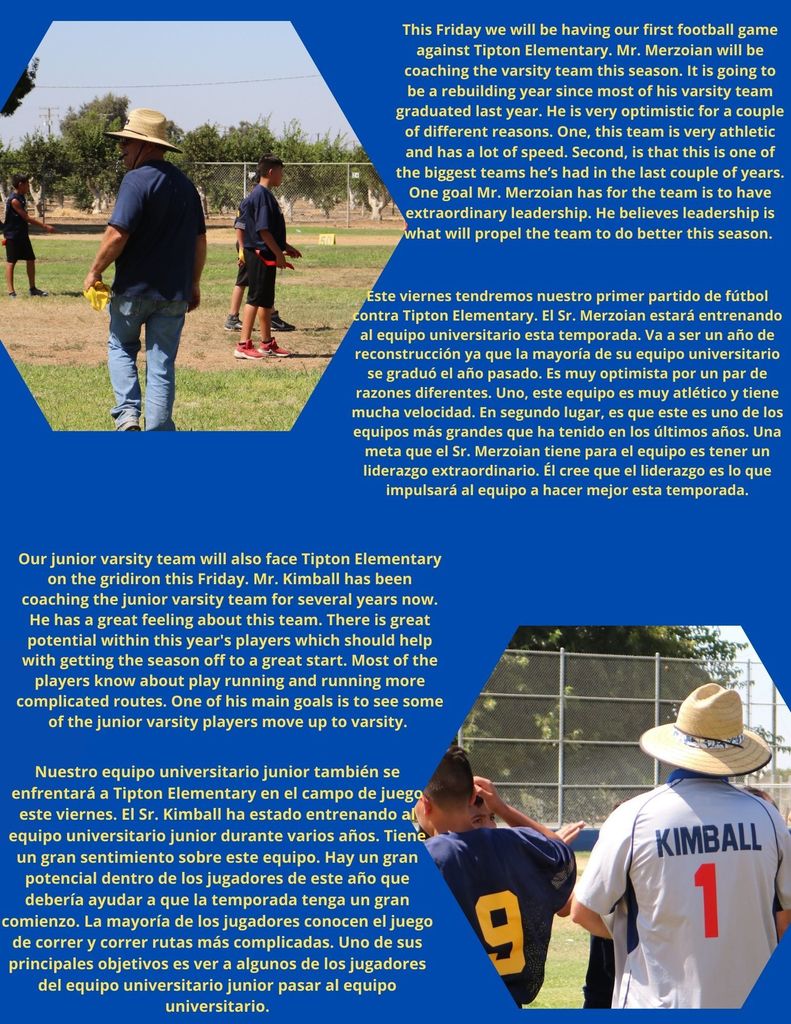 Best of luck tomorrow on your first game Mrs. Chavez and Mrs. Franco. Go Trojans!☀️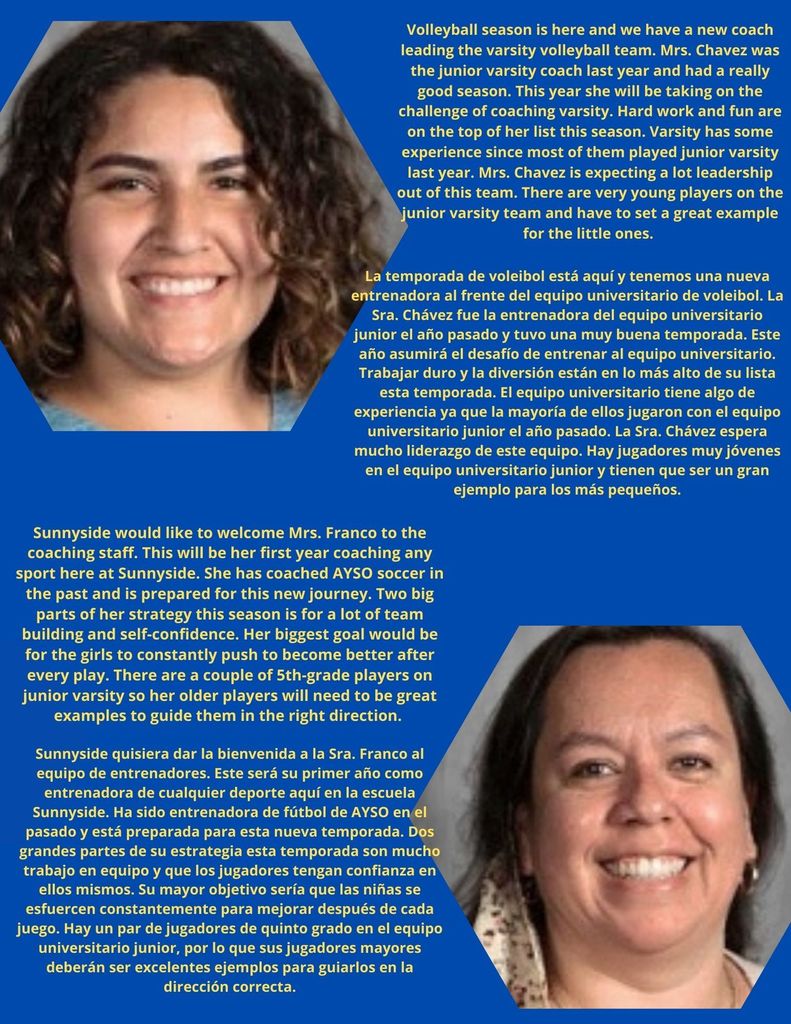 Sunnyside's picture day is right around the corner. It will be held on August 22nd. If you would like to pay for pictures early, you can use the picture day ID and website on the flyer.📸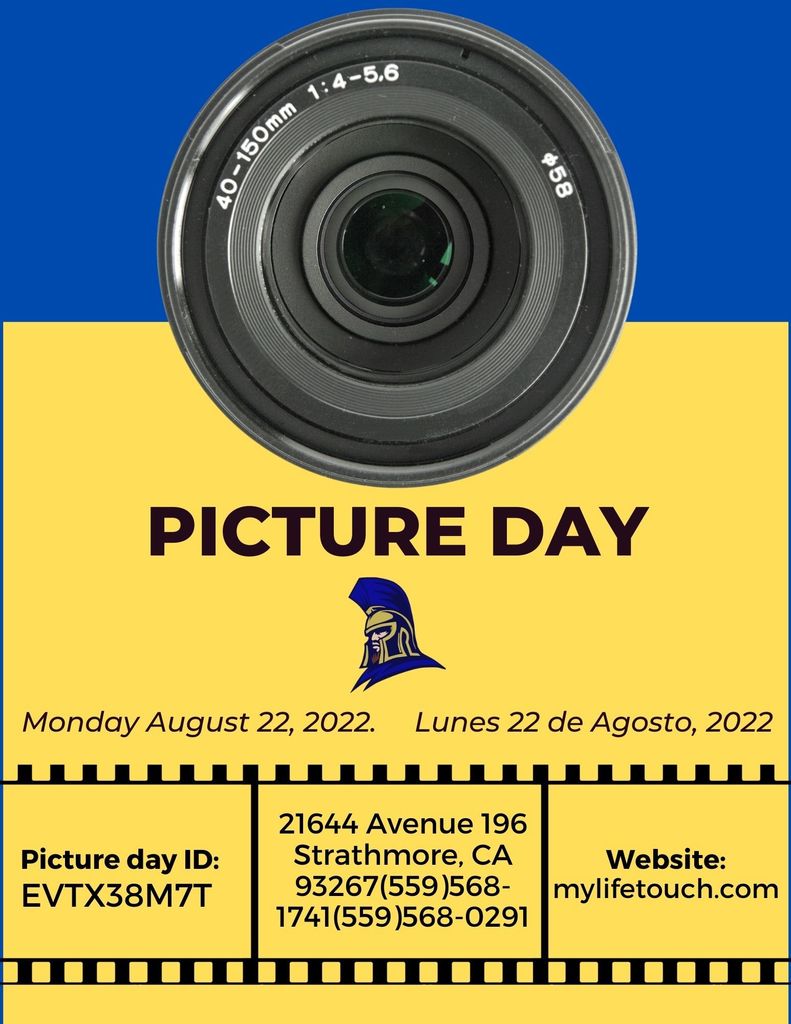 Food distributions will take place in Plainview on August 17th at 2 P.M.. The date is currently not listed on this calendar but will be added soon. The event is open to the whole community and will be completely free.

Our first Football and Volleyball games will be on August 19th at 12:30 PM. The games will be held at Tipton Elementary. Stop by and root for your Sunnyside Trojans!☀️

We would like to give a warm welcome to our new Sunnyside teachers. Mr. Soto our new 5th grade teacher and Mr. Cuevas our new P.E. teacher.☀️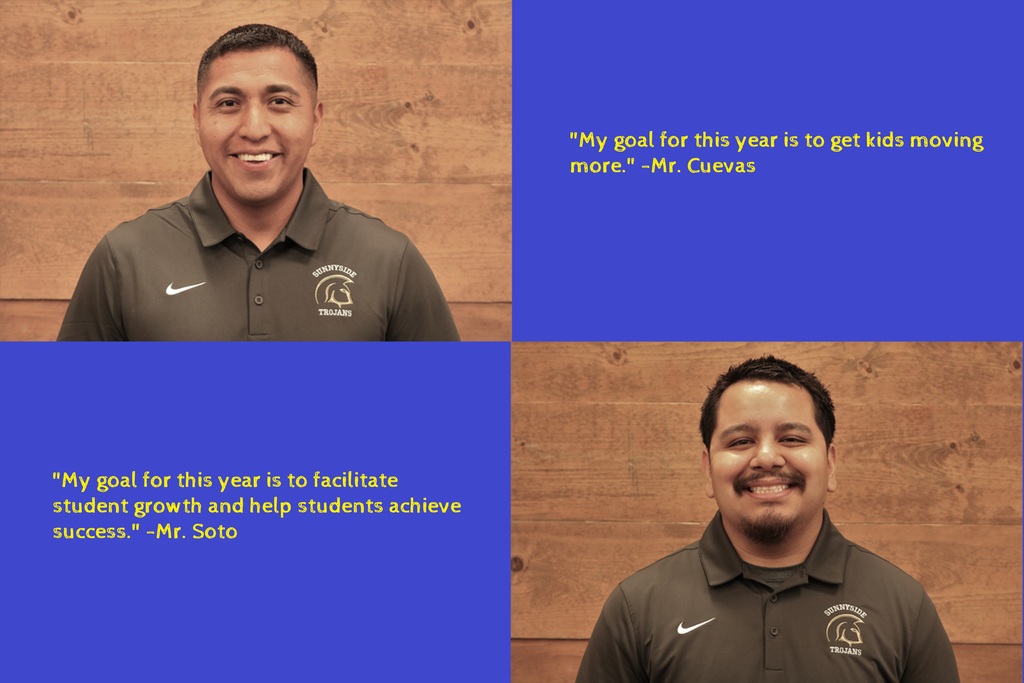 "One child, one teacher, one book and one pen can change the world" – Malala Yousafzai☀️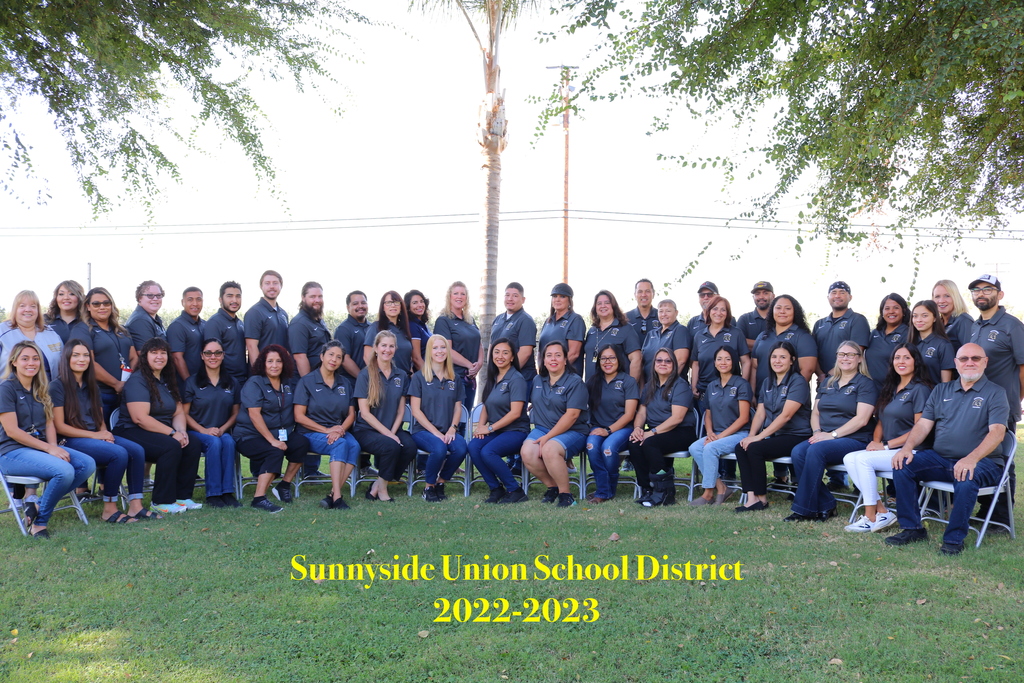 La escuela comienza mañana. Los mismos horarios que el año pasado y los mismos procedimientos para dejar y recoger. ¡El personal espera tener un gran año!

Pruebas caseras gratuitas de COVID para estudiantes disponibles hoy de 12 a 4 en la sala 15 (detrás de la oficina de la escuela). TDAP para estudiantes de 7º grado hoy de 12 a 4 en el mismo salón.

Free Student COVID home tests available from 12–4 today in Room 15 (behind school office). TDAP for 7th graders today from 12–4 in the same room. School starts tomorrow. Same times as last year and same drop off and pick up procedures. The staff is looking forward to a great year!

Recordatorio: Clínica TDAP de séptimo grado para cualquier persona que todavía necesite esta vacuna requerida ANTES de comenzar su año de séptimo grado. La clínica estará en Sunnyside mañana de 12- 4:00.
Reminder: Seventh Grade TDAP Clinic for anyone who still needs this required immunization PRIOR to starting their 7th grade year. The clinic will be at Sunnyside tomorrow from 12:00 to 4:00 PM.

Summer Food Giveaway is almost over. 20 bags left! Come and get them. El sorteo de comida de verano casi ha terminado. ¡Quedan 20 bolsas! Ven y tómalos.

Final Food Giveaway is underway soon. Come on down and pick up a big bag of food. El sorteo final de alimentos comenzará pronto. Ven y recoge una gran bolsa de comida.
Reminder: Final Summer Food Giveaway from the Save the Children Summer Feed is tonight from 6:00 – 7:00. Only 150 food bags available! Recordatorio: la última comida de verano de Save the Children es esta noche de 6:00 a 7:00. ¡Solo 150 bolsas de comida disponibles!

It is here! Sign up for our new ParentSquare App. This tool will be used to communicate messages from the school and individual teachers to the parents. This upgrade will improve communication and ensure that you are being notified consistenly. Link:
https://5il.co/1ffqi

"To the world you may be one person; but to one person you may be the world."-Dr. Seuss☀️